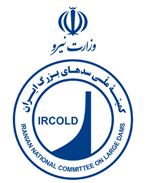 The 35th session of the special committee on New Challenges and Visions for Dams and Reservoirs in the 21st Century was held on 19 January 2019 at the central office of the Iranian National Committee on Large Dams (IRCOLD, Subsection of Ministry of Energy) in Tehran.
During the meeting, the executive measures on the topic of the session were presented by IRCOLD. Saman Ab Sarzamin Consulting Engineers (SAS) actively participated in this session and the outcomes of the project on the investigation on the water leakage from Lar Dam were presented by SAS Representative.
A review of the proposed projects for the coming year and a proposal for organizing a training workshop related to the topic of the session in the next year was mentioned at the end of the session.